Our shop is designed to make it easy for you. 103 Hunter St Hornsby.
With literally thousands of items on display it is easy to browse and make your choices.
Trophies, castings, medals, crystal, cups, plaques, pennants and banners.
Click on any thumbnails for a more detailed view
To ensure your order is complete and correct, we also have a large preparation area to make up and organise your order prior to shipping it out.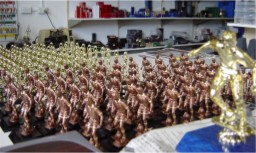 Talk to the people who take your order, make it and have it ready, Brad and Donna.
call us now on 02 9482 3337